Yacht charter to Aeolian Islands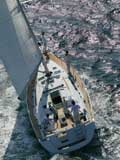 The Barca a vela nelle Isole Eolie yacht charter is ship-owner from 2001, with its fleet of Beneteau and Bavaria boats.
It have the nautical base in the Marina of Portorosa, Messina lies in front of the Aeolian islands: it is a wonderful base from which you can explore the sea with a sailboat or a yacht.
Portorosa, between Tindari and Milazzo, is one of the best tourist ports of Sicily, a marina hosting up to 680 boats!
From Portorosa (Messina) you can start one of the most charming tourist itineraries to the Aeolian Islands.
This popular resort is the base of our company, Barca a vela nelle Isole Eolie, where you can rent the boats for your holiday.
Explore the beautiful sea of the Aeolian islands: it will be one of the most exciting adventures that you can do!
Marina di Portorosa lies a few kilometres from Tindari, Milazzo, Vulcano, Lipari, Panarea, Salina, Filicudi and Alicudi.
They all are seaside resorts attracting a lot of tourists, Italians and foreigners as well who want to spend their holidays at the sea in Sicily.
In Portorosa you can find all the services you may need: supermarkets, shops selling local products, hotels and restaurants.